Finally, after a nervous wait for all involved, we are ready to begin the most prestigious tournament in the history of football. Let us begin our epic voyage of discovery, who had the best kit in Serie A in the 1990s?
We start with two traditionally strong teams in calcio, as Fiorentina take on Roma. For the thousands in attendance, and the millions watching around the world, ladies and gentleman, let's get ready to….*
Fiorentina (1990-1993, 1994-2000) vs Roma (ever present)
It is hard to fathom now, but Fiorentina, with a team that included Dunga, Steffan Effenburg and of course Gabriel Batistuta were relegated in 1993. They were quickly promoted back to Serie A as Serie B champions in 1994, and quickly regained their place as one of Italy's better teams. By 1999, they were in the running to win lo Scudetto, but fell away due to an injury to Batistuta and fellow striker Edmundo preferring the delights of the Rio Carnival to a title challenge.
Meanwhile Roma were decent in the 1990s without ever really threatening for the title. In 1991, they won the Coppa Italia but lost an all Italian UEFA Cup final to Inter Milan. Throughout the decade, Roma were managed by a number of iconic Serie A coaches, from Vujadin Boskov, Carlo Mazzone, Zdemek Zeman and Fabio Capello. Despite these great coaches, Roma's highest finish was fourth in this decade, but under Capello, they won the championship in 2001.
Fiorentina 
It was a difficult choice for Fiorentina, as the club has a strong history of great kits, which is understandable as they play in purple, which always looks good in my opinion. Narrowing it down to the 1990-91, 1998-99 and 1999-00 strips, I chose the 1999-00 version.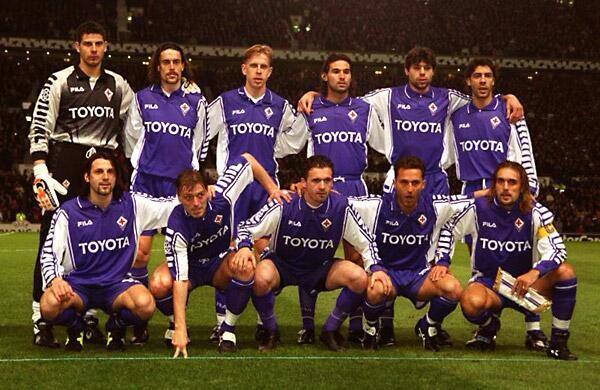 This kit was made famous by Batistuta's absolute thunderb*****d (h/t Guardian football weekly) of a goal against Manchester United in the Champions League.
There's a lot to appreciate about this kit. I like the white on the either side of the main purple, the sponsor is prominent but looks good, and Fiorentina also have a pretty badge. All good thus far, but there are a couple of issues with this kit.
Firstly, this is a personal view, but I have a phobia of polo shirts, especially polo shirt collars. Whenever I see them I feel the need to scratch my neck, and I'm afraid this kit suffers for its collar in my eyes. Secondly, those Fila designs on the arms A. Look like ladders and B. Needlessly impact a very good kit.
How will Roma compare?
Roma
If the competition was for strips in the noughties, I get the feeling that Roma would win. They had a couple of great, skin hugging strips made by Kappa (the most underrated brand for football kits in the world) in the early and late noughties.
Unfortunately for them, we are in the 1990s, where good Roma kits seem to be in short supply, as their 1996-97 strip will testify.  I have chosen Roma's 1990-91 offering, which as I mentioned before they won the Coppa Italia but lost the UEFA Cup.
Also see this link for a better look at it.
This kit looks like it is the last gasp from the 1980s, which is either good or bad depending on your point of view. It is relatively simple in design, but has a number of good points to it. Its collar is better than Fiorentina's, whilst Roma's wolf logo looks very good nestled away on the left hand side. The sponsor Barilla also looks nice on the kit, and as they are a pasta company (stereotype klaxon!) they get bonus points. If I could describe this kit in two words it would be 'plainly decent', which, thinking about it, is a very back handed compliment.
A solid, but unspectacular kit then from the Giallorossi. 
Winner: Fiorentina
Despite major contentions with the collar, this was an easy decision for me. The Fiorentina kit, like the city of Florence, exudes cool, and was worn by Gabriel Batistuta, whilst Roma's kit was worn by Rudi Voller, most famous for having Frank Rijkaard's phlegm in his mullet.
Fiorentina then, go through to the next round, where they will be strong contenders. Next up it will be Piacenza (remember them?) vs Sampdoria, another club with a history of good shirts. Ciao for now.
* Cannot be completed for legal reasons.