Before we begin our epic voyage to discover the best kit of the 1990's I neglected to mention any kind of rating system. There isn't a distinct system as such, but I will be commenting on such things as how the colours go together, how the sponsor looks, the collar (very important for me!), as well as what was achieved by the team that season.
Now let us proceed onto the qualifier, between two teams that were in Serie A for five years between 1990-2000, Genoa and Bologna, who will make it through to the tournament proper?
Qualifier: Genoa (1990-1995) vs Bologna (1990-1991, 1996-2000)
We start with two historically big clubs. Genoa being the oldest in Italy, and Bologna, who won a series of titles in the late 1930's. Both clubs suffered in the 1990's though. Genoa began a decade of decline after relegation in 1995, whilst Bologna were in Serie C1 at one point in the mid 90's. We start with Genoa's kit.
Genoa 1990-1991
I have chosen Genoa's strip from the 1990/91 season, where they did brilliantly to finish 4th under former Napoli boss Osvaldo Bagnoli, and they had the good, but now forgotten, Tomas Skuhravy up front.
I think this is quite a strong kit actually. I like the 50/50 split between red and blue, which is matched on the sleeves as well. The collar is also nice, and its blue on the red side and red on the blue is a nice touch. The sponsor Mita also fits in nicely with the kit, noticeable but not in your face. A very good start to our competition.
Bologna 1998-1999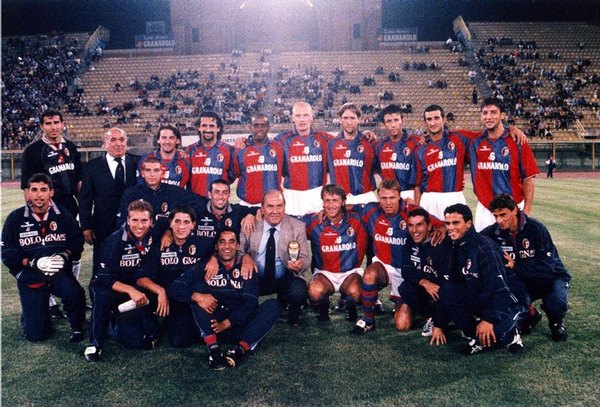 Here is Bologna's kit from the 1998/99 season, where they won the Intertoto Cup (remember that?) and came 9th, despite losing the services of the legendary Roberto Baggio in the summer.
At best, this is an OK kit. The collar is very similar to Genoa's, but the little g above the sponsor Granarolo is somewhat annoying. Upon closer inspection, the Bologna crest is superimposed on the left hand side of the kit, which detracts from the overall design. It reminds me slightly of Barcelona's great Kappa kit from earlier in the decade, but not as good.
Verdict: Genoa Victory
This was a surprisingly easy decision. I expected two lower table sides would produce average at best kits, but I am very impressed with Genoa's design. They will join fellow Genoese side Sampdoria in the tournament proper, join me soon for the draw for round one of The Best Serie A Kit of the 1990's (an increasingly catchy title!).